Few towns in Ireland can match Westport's charisma and continental flavour. Cheerful, multi-coloured shop fronts jostle for attention with an attractive selection of pubs, cafés and restaurants – not to mention its setting on Clew Bay under the protection of majestic Croagh Patrick. Little wonder it has become Ireland's most popular and cosmopolitan holiday destination.
If we missed any of the top 10 things to do, please leave a note in the comments field.
We hope to welcome you to Westport really soon.
1. Explore Westport House & Grounds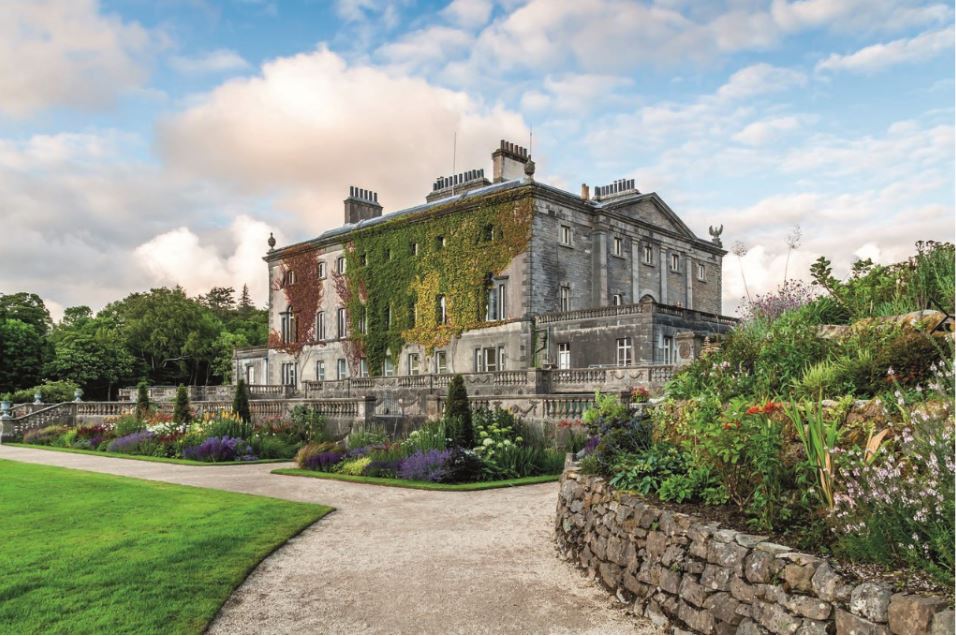 First opened to the public is 1960, this stunning historic house has been the family home to the Browne family for over 300 years.  But there has been a "big house" on this site since the 1500s when Grace O'Malley, the Pirate Queen of Connaught, built one of her castles here.  Today, it is regarded as Ireland's most beautiful historic homes with impressive access to over thirty rooms and six permanent exhibitions. This house has some stories to tell!  The stunning interiors are rivalled by an equally gorgeous  parkland setting with lake, terraces, wonderful gardens and magnificent views overlooking Clew Bay, the Atlantic Ocean, Achill, Clare Island and Ireland's holy mountain Croagh Patrick
There are 30 architecturally stunning rooms on show, complete with original contents, most of which have a long association with Ireland and are of particular interest to visitors.  And there are 6 permanent exhibitions ranging from Grace O'Malley the Pirate Queen to the Famine & Westport House to Howe Peter – Emancipator of the Slaves in Jamaica and more. It's open daily from March to October and weekends in November and December. Plan your trip to Ireland's most beautiful historic house here.
2. Coast Road Drive: Croagh Patrick & the Clew Bay Beaches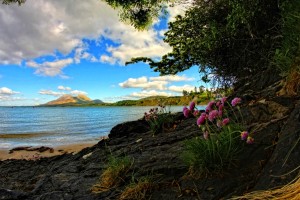 From Bertra to White Strand in one direction and Mulranny to Achill in the other, Clew Bay is spoilt with beautiful beaches. They are yours to explore from just ten minutes' drive from Westport to a half or full day outing – the choice is yours.
Just ten minutes outside of Westport, before you reach Bertra Beach, Croagh Patrick stands at 764m (2,507ft) and is the third highest peak in Mayo, after Mweelrea and Nephin. Best known for its association with Saint Patrick, who is said to have fasted for 40 days at the summit in 441AD, Croagh Patrick has been a pilgrimage destination since pre-Christian times.
The most popular route to the summit begins at the west end of Murrisk on the Louisburgh Road. The route is 7km (4.3 miles) long, round-trip and the visitor centre at the bottom provides a welcome coffee shop/self-service restaurant, as well as a craft shop. Hot showers, secure lockers and pay and display parking are also available. Guided tours to the Statue are available from the Centre during peak season with advance notice.
If you're not up for the climb, keep driving to explore the many other beautiful beaches.
3. Family Fun at the Pirate Adventure Park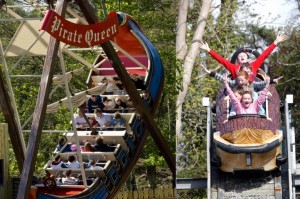 Located on the grounds of Westport House,  the Pirate Adventure Park is one of the top Family Holiday Adventure Parks in the West! Named in honour of the Pirate Queen of Connaught, The Pirate Adventure Park – which is ideal for families with children under twelve – offers a wide range of rides including the NEW Additions for 2019 the Mini Zipline, Jump Around, Vortex Tunnel, Mini Ferris Wheel, disc Golf, Tiny Town, Panning for Gemstones and Hook a Duck along with our favourites Cannonball Run slide, the Pirate Queen Swinging Ship, the Pirates Plunge log flume ride – the country's ONLY log flume ride – iconic Swan Pedalo Boats on the lake, Westport House Express miniature railway, indoor soft play, playgrounds, sandpits and Go Karting.  Plan your family's fun day out in Westport by clicking here!
4. Cycle the Great Western Greenway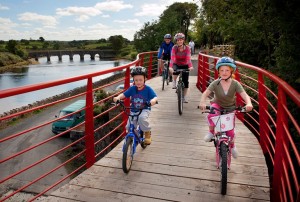 Escape the bustle of urban life on the Great Western Greenway, the longest off-road cycling and walking trail in Ireland. Meandering along the old Westport to Achill railway line which closed in 1937, this 42km almost entirely traffic-free (and mostly flat!) route is ideal for getting out on a bike for a spin and is perfect for a day of family fun. Local bike hire companies also offer shuttle services to and from Newport, Mulranny and Achill, so cycling a partial stretch is also an option. More information on www.clewbaybikehire.com and www.westportbikes4hire.com.
5. Enjoy a Pampering Spa Day
Westport has an impressive selection of Leisure Centres & Spas on offer. Whether it's splashing around with the kids, a pampering day out with the girls (with Afternoon Tea thrown in for good measure), or simply enjoying some well-deserved "Me Time", you'll have your pick of excellent facilities to choose from. Plan your day in the lap of luxury by visiting DestinationWestport.com's spa and leisure centre guide.
6. Get your Adventure on at Westport House 
If you're looking for something particularly active to do, Westport House's New group activities will test your limits and get the whole group working together. There are physical games to challenge your team  including problem-solving, balancing, escape and evasion, obstacle course and boat ride. Team building coordinated by our ex-army Adventure Manager and qualified outdoor instructor. Depending on the time of year, some activities need to booked in advance. Plan your Team Bonding Day in Westport House Here! 
7. Play a Round of Golf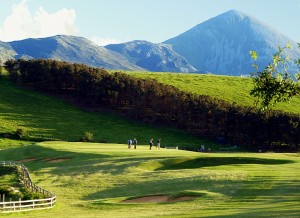 Just five minutes' drive from the town, Westport Golf Club is one of Ireland's finest parkland courses. A highly regarded championship venue, the Club is the three-time host of the Irish Amateur Close Championship, and also the Smurfit Irish PGA Championship in recent years. It is set in the scenic splendour of 260 acres of undulating parklands on the shores of Clew Bay with breathtaking views of Croagh Patrick. Plan your golf trip in Westport here.
8.Have a Blast with Westport Adventure Park
Less than ten minutes from town, experience a range of "war games" including paintball, zorb wars, bubble soccer, splatball, an assault course and airsoft shooting range. More information on www.westportadventurepark.ie
9. Explore the Clew Bay 'Blueway'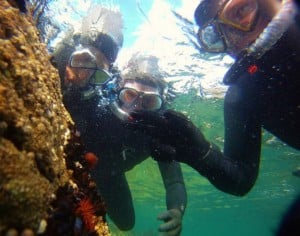 The Blueway is a network of water trails where you can experience a variety of water-based activities, in a safe controlled environment. Old Head beach, just 15 minutes drive from Westport, is included in this network where you will find a ½ km snorkelling trail and a 5 ½ km kayaking trail. At Old Head, you can also try coasteering (a highly popular adventure activity combining adventure swimming, cliff jumping and rock scrambling all into one action-packed session) and stand-up paddleboarding (SUP).
Two islands within the bay are particularly attractive for water sports enthusiasts. Collanmore Island, just 12 minutes from Westport, is a private island used as a base for adventure company, The Adventure Islands, where they have a host of fantastic water park full of water trampolines, runners and slides, as well as offering sailing, SUP, water skiing and many other activities.
Meanwhile, Adventure West offer coasteering, snorkelling, and raft-building on Clare Island, which proudly guards the mouth of the bay and is earning an enviable reputation as an adventure destination, both on dry land as well as the water.
There are a range of excellent water activity providers with whom to enjoy the Blue Way in Westport such as www.adventurewest.ie, www.theadventureislands.com, www.clewbaybikehire.ie/sea-kayaking.
10. Westport Town Hall Theatre
Situated in the Heart of the town, Westport Town Hall Theatre, A 225 seat multi-use Cultural Space for the Performing Arts, hosts some excellent local heritage plays, music and comedy! check out there full list of events here www.westporttownhall.ticketsolve.com/shows 
Hopefully, this Top 10 Things to Do in Westport list explains why Westport was crowned The Best Place to Live in Ireland by the Irish Times, named Best Tourism Town in Ireland in 2013 by Failte Ireland and was a three-time winner of the national Tidy Town's award 2019.
But more importantly, we hope we have inspired you to come to visit the beautiful Westport town in the near future.  Please consider renting one of Westport House's beautiful Bell Tents for a once-in-a-lifetime camping holiday.  Or better yet, bring your own campervan, mobile home, tent or caravan to Westport House. We look forward to welcoming you.
And finally, we know this isn't an exhaustive list, we're sure to have missed out on something – or many things! – so please leave a comment with your top thing to do for others to enjoy.
[ngg src="galleries" ids="155″ exclusions="1064,1066″ sortorder="1030,1087,1088,1033,1089,1061,1085,1021,1053,1064,1020,1037,1070,1066,1022,1023,1024,1025,1026,1027,1028,1029,1031,1032,1034,1035,1036,1038,1039,1040,1041,1042,1043,1044,1045,1046,1047,1048,1049,1050,1051,1052,1054,1055,1056,1057,1058,1059,1060,1062,1063,1065,1067,1068,1069,1071,1072,1073,1074,1075,1076,1077,1078,1079,1080,1081,1082,1083,1084,1086,1090,1091,1092,1093″ display="basic_thumbnail" number_of_columns="3″]
There's always something happening at Westport House. Stay in our Glamping Village, take on the Interactive Gaming Zone or enjoy a pizza at Gracy's.