When planning a trip, it's easy to think blue skies and sunsets, but unfortunately it does rain from time to time. But don't worry we've got you covered. There's plenty to see and do in Westport Rain, Hail Sleet, Snow or Sunshine! Take a look at our Top 7 things to do in Westport when it's raining: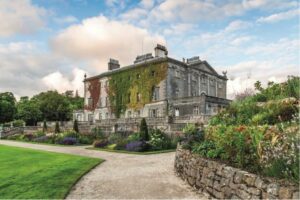 Ireland's most beautiful historic house. First opened to the public is 1960, this stunning historic house has been the family home to the Browne family for over 300 years. But there has been a "big house" on this site since the 1500s when Grace O'Malley, the Pirate Queen of Connaught, built one of her castles here. Today, it is regarded as Ireland's most beautiful historic homes with impressive access to over thirty rooms and six permanent exhibitions. This house has some stories to tell! The stunning interiors are rivalled by an equally gorgeous parkland setting with lake, terraces, wonderful gardens and magnificent views overlooking Clew Bay, the Atlantic Ocean, Achill, Clare Island and Ireland's holy mountain Croagh Patrick
There are 30 architecturally stunning rooms on show, complete with original contents, most of which have a long association with Ireland and are of particular interest to visitors. And there are 6 permanent exhibitions ranging from Grace O'Malley the Pirate Queen to the Famine & Westport House to Howe Peter – Emancipator of the Slaves in Jamaica and more. Plan your trip to Ireland's most beautiful historic house here.
Situated in a 19th century building, just 2 kilometres from the centre of the historic town of Westport sits the Clew Bay Heritage Center
Clew Bay Heritage Centre traces the history of the planned town and the Clew Bay area from pre-Christian times to the present. It prides itself on being a "hands on" experience one of the few museums, where visitors can touch the artefacts on display.
Treat yourself to a spa day in lovely Westport. Westport has an impressive selection of Leisure Centres & Spas on offer. Whether it's splashing around with the kids, a pampering day out with the girls (with Afternoon Tea thrown in for good measure), or simply enjoying some well-deserved "Me Time", you'll have your pick of excellent facilities to choose from. Visit our Senses Spa to see all our different offers.
Westport Town Hall, situated beside the Octogon town is the perfect escape for a rainy evening of entertainment. From local drama groups , heritage shows to upscale comedians there is a wide range of interests covered and very reasonably priced. Check out Whats On
Westports W Cinema is open 7 days a week and has a great selection of movies and new releases. A rainy day is the perfect time to catch a Matinee and some popcorn, They do deal on a Monday, which includes your ticket, popcorn and drink for €10! See whats on HERE
Mescan Brewery is named after Mescan the monk who was St. Patrick's friend and personal brewer. It is situated on the slopes of Croagh Patrick and is owned and operated by Bart Adons and Cillian Ó Móráin, two Westport vets who have been friends and colleagues for nearly 20 years. The pair spent four years perfecting their original recipes inspired by the beers of Belgium, Bart's homeland before starting to brew commercially in 2013. The Tour will lead you through our range of 7 beers describing the flavour profile and some of the history of each style. Finger food is served, the tours are informal and fun and we encourage questions. The tours lasts about one and a half hours and costs €15 per person. Book your visit and find out more HERE
There are more than enough amazing view points and drives with breathtaking scenery close to Westport Town. If you have a car jump in and keep your eyes peeled because rain or not these sights are stunning. Check out this BLOG for some ideas.
Hopefully, this Top 7 Things to Do on a Rainy Day  in Westport list explains why Westport was crowned The Best Place to Live in Ireland by the Irish Times, named Best Tourism Town in Ireland in 2013 by Failte Ireland and was a three-time winner of the national Tidy Town's award 2019.
But more importantly, we hope we have inspired you to come to visit the beautiful Westport town in the near future.  Please consider staying with us in Hotel Westport. Four-star Hotel Westport offers all its guests tasteful, comfortable accommodation in beautifully furnished rooms, as well as luxurious spa experiences, a range of kids' clubs, fine dining and plenty of entertainment. While situated in the heart of Westport town, Hotel Westport is the only hotel located on the grounds of Westport House giving guests unrivalled access to the estate's many charms, 3.5 km riverside and woodland trail.
Hotel Westport is the ideal location to base yourself when travelling along the Wild Atlantic Way, visiting the Islands such as Achill or Clare Island, touring Connemara, climbing Croagh Patrick, walking or cycling the 42-km Great Western Greenway or inland to the National Museum of Country Life and Foxford Woollen Mills. Westport itself is a bustling little town with wonderful local cafes, quirky shops and boutiques and a fabulous nightlife – great Restaurants and Entertainment in the Hotel and the local hostelries, there's plenty to do day and night.
Hotel Westport & the 400-acre grounds it is located upon is the perfect location to base yourself whilst in the West of Ireland.
SO DISCOVER YOUR PERFECT HOLIDAY, DISCOVER HOTEL WESTPORT AND THE WESTPORT HOUSE ESTATE
There's always something happening at Westport House. Check out our Adventure Park, take on the Interactive Gaming Zone or enjoy a pizza at Gracy's.