INTRODUCTION TO A HISTORIC HOUSE
Welcome to Westport House, one of County Mayo's best loved attractions. Considered a national treasure, discover over 300-years of history at Westport House in 'Ireland's Most Beautiful Home.' Its legendary beginnings date back to Pirate Queen of Connacht Grace O'Malley, whose castle forms the foundations of Westport House.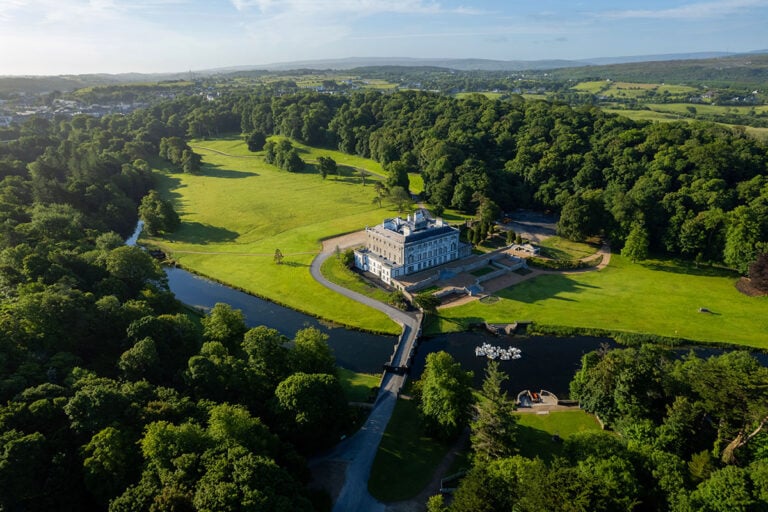 Fairy Tale Setting: Boasting a 400-acre Estate filled with gorgeous woodlands, beautiful gardens, scenic terraces, and enchanting antiquities; Westport House offers a fairy-tale setting for an exclusive wedding or special occasion. Get in touch with our team today about hosting your event at Westport House.
A Historic House
Nestled alongside the bustling heart of Westport Town, Westport House provides the perfect escape to the wild beauty and adventure of the West of Ireland. Whether you're staying in our premier campsite, spending the day the Pirate Adventure Park, grabbing a coffee at one of our delicious on-site eateries or taking in the history of our historic house; Westport House is a treasure trove of exceptional experiences for all ages. With Croagh Patrick on the horizon, Clew Bay in the distance and our 400-acre Estate at your fingertips, there's no end to the adventures that await you.
Five Million Visitors
Since opening its doors to the public in 1960, Westport House has welcomed more than five million visitors through its doors. Our historic house enthrals visitors with its legends of lords, ladies, pirates, architecture and slave emancipators. Our top-rated tour guides are on hand to bring you along on the fascinating story of our historic house and its former inhabitants.
In recognition of our excellent customer service and exceptional qualities, Westport House has garnered prestigious recognition and acclaim. We are proud recipients of numerous awards, celebrating our commitment to historical preservation, stunning natural surroundings, and unrivalled guest experiences. We continue to strive for excellence in every aspect of Westport House, just take a look at some of our achievements.
CIE TOURS:
Awards of Excellence 2013
BOOTS MATERNITY & INFANT MAGAZINE AWARDS
Best Family Holiday Destination Award 2015
PRIMARY TIMES STAR AWARDS
Best Halloween Event and Best Family Visitor Attraction 2015
MAYO BUSINESS AWARDS
Winner 2015
BOOTS MATERNITY & INFANT MAGAZINE AWARDS
Second Place Best Family Day Out / Best Family Holiday Destination/Hotel 2016.
Finalist Best Santa Experience
IRISH TOURISM INDUSTRY AWARDS
Best Leisure Tourism Innovation 2017
HOW WE BENEFIT THE MAYO REGION
Economic Impact of Westport House
According to the Westport House Economic Impact Study by CHL Consulting Co. Ltd for Mayo County Council, Westport House was revealed as the motivation for over 60% of tourists that travel to Mayo.
THE STATS YOU NEED TO KNOW
Westport House in numbers
Visitors in 2014 (up 82% on 2009)
Direct Expenditure to the Exchequer and the local economy in 2014
Direct Expenditure to the Exchequer and the local economy in 2014
Full time jobs on site at Westport House
In turnover generated in the financial year ending 30.09.2014
Of respondents to an on-site survey reported that Westport House was their principal motivation for traveling to Mayo
Major Economic Report
A major new report carried out by CHL Consulting Co. Ltd on behalf of Mayo County Council in September 2015 revealed the total economic impact of Westport House to the economy of the region. The report was launched on September 29th at Westport House. Privately owned by the Browne Family for almost 400 years and open to the public since 1960, the Estate directly creates 47 jobs and accounts for €50.7 million indirect expenditure for the region. Westport Estate has also shown significant growth in recent years with over 162,000 paying customers in 2014 – up 82% on the 89,000 visitors in 2009.
Westport House is cited as one of Ireland's national treasures. Since 1960, the Browne Family have invested significantly in the estate in order to ensure that it continues trading as a leading tourism attraction – mainly by providing a changing and evolving range of tourism activities. This has resulted in the Estate's rise as one of the Top 20 paying attractions in the country.
In 2017, Westport House was bought by the Hughes family, who have continued to look after and carry on the story of Westport House. Recognising the importance of Westport House in terms of tourism for Westport and the entire Mayo region, they are significantly investing into the Estate, helping to create hundreds of jobs for the local area and developing one of the finest tourist attractions in Ireland.   
The Findings
In terms of a direct contribution of economic value created, Westport House contributed almost €1.64 million to the Exchequer and the local/regional economy in the twelve months ending 30 September 2014.
In terms of economic value generated by Westport House, some €50.7 million (based on an on-site survey) will be spent in Mayo and the wider region by consumers visiting the House this year (this figure is separate to the expenditure these visitors make at Westport House itself). This estimate is based upon survey respondents' reported expenditure and is limited to those respondents who stated that the House was the principal purpose for their visit to Mayo.
Economic activity on-site at Westport House directly employs 47.1 people (Full Time Equivalents). It is estimated, based upon Fáilte Ireland multipliers, that the expenditures associated with those that cite Westport House as the principal reason for their visit to Mayo, support a further 1,724 jobs elsewhere in the regional economy.
Based on Fáilte Ireland estimates of tax receipts accruing to the Exchequer through tourism activity, the €50.7 million referenced above (arising from tourism associated with Westport House) will yield an additional €12.4 million for the Exchequer.
Westport House is predominantly a domestic market family tourism product. Survey results indicate that some 84.4% of visitors to the House were Irish.
In an on-site survey, 60.9% of respondents reported that Westport House was their principal motivation for traveling to Mayo.
The product offering at Westport House aligns well with the wider national tourism policy agenda, and it serves as a prominent and significant adventure hub along the Wild Atlantic Way. As such, Westport House can expect to benefit from the continued domestic and international marketing of the Wild Atlantic Way.
Apart from its performance as an economic asset, Westport House is a cultural and heritage asset of national significance, and consequently the non-monetised value of the House and estate needs to be recognised in assessing the significance of the House to the life and economy of Mayo.
The report was carried out by CHL Consulting Co. Ltd using a full review of financial documents at Westport House Estate. An on – site survey of 400 respondents took place in July 2015. Consultations were also carried out with all local bodies and the community at large. 
Membership
WILD ATLANTIC WAY
DESTINATION WESTPORT
THE CAMPING AND CARAVANNING CLUB
ROYAL DUTCH TOURING CLUB
CAMPING KEY EUROPE
CAMPING IRELAND
FAILTE IRELAND QUALITY ASSURED
ASSOCIATION OF VISITOR EXPERIENCES