If you visited us in 2015, you'll have seen the gorgeous Arthur North & Company 18th century Carousel and Helter Skelter in the farmyard. Well, I'm glad to say that they're back for the 2016 summer season and this year, the carnival will be even bigger and better this year with new rides and brand new carnival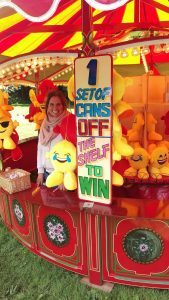 games with the chance to win some gorgeous teddy bears!
Since arriving on Monday, Arthur and his team have been busy assembling the rides and carnival games.  The first priority was to get the Carnival Games installed in the Pirates Haven.  You can test your dexterity, hand-eye coordination and strength by knocking all three cans off the shelf to win an emoticon teddy.  Or throw the ping-pong ball into one of three different jars to win a small, medium or large teddy depending on which jar you hit.  It is not actually quite as easy as it looks as I quickly learned today….
In the farmyard, Arthur and the lads set to work on assembling the Dodgem Cars.   I can only speak to the excitement in my own home but I am now wishing I hadn't mentioned them to my kids last weekend.  Tom and Kitty (aged 4 and 7) are so excited that every night I walk in the door, the first question I'm asked is not "how was your day, mum?" but "are the dodgems there yet?".  I have a funny feeling they're going to be pretty popular this year!
The gorgeous 18th century carousel is back again this year and we hope you'll all agree that it is such an ideal fit with the beautiful heritage setting of Westport House.  The farmyard buildings – which were built in the 1700s by Howe Peter Browne, the second Marquess of Sligo  – are some of the most extensive farmyard buildings in Europe. Its no wonder the vintage carousel fits in so nicely!
Everyone loves a slide – so you'll be delighted to hear that the ever popular Helter Skelter is back.   And same with the Chair-o-Planes.
With Arthur and team working hard, all of the rides will be up and running on Saturday morning, July 2nd,  from 11am and open til 7pm daily.  Each game and ride costs €3 each.  Parents must be ticketed to accompany children who are smaller than 1.1m on the carousel.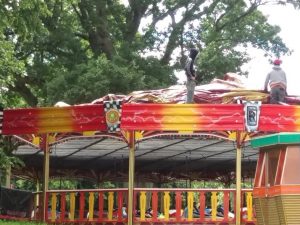 Roll on Saturday – I can't wait to take my little ones on them. And I hope I'll see YOU there, too.