Hotel Westport & Westport House Honoured at CIE Tours International 29th Annual Awards of Excellence & IASI Awards
At a reception in Dublin City Hall on Monday night, Elizabeth Crabill, Chief Executive Officer of CIE Tours International, presented Hotel Westport & Westport House each with Merit Awards at their Annual Awards of Excellence. Now in its 29th year, the annual awards of excellence recognise the best hotels and attractions across Ireland and are based on customer feedback from over 32,000 customers throughout the year.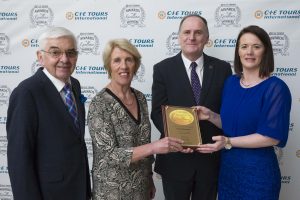 Owen Hughes, Director of Hotel Westport & Westport House was delighted with the honour and said "We believe this is a testament to the top-class accommodation, dining and heritage experience that our Hotel Westport & Westport House teams provide to visitors from all over the world. We appreciate the support and vision that CIE Tours has had in bringing tours to Westport for over 10 years now – one of the first tour operators to do so. In turn, we re-pay this with a warm welcome and the very best of west of Ireland hospitality, customer care and attention to detail across the Westport House Estate. We look forward to welcoming – and exceeding the expectations of – many more CIE Tours visitors into the future."
Declan Heneghan, General Manager of Hotel Westport, commented on the "consistency, hard work and commitment to high standards of the Hotel team" demonstrated by the fact that is the 10th year in a row that it has received this Award of Excellence. Further, this week the hotel accommodation team were awarded a Gold Standard Award by the Irish Accommodation Services Institute (I.A.S.I.) and the kitchen team were honoured for a seventh year with an A.A. Rosette for culinary excellence.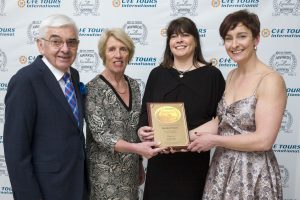 Set in the lush 400 acre estate, Hotel Westport & Westport House each complement the other to make visitors' stays in Westport truly unforgettable. Four-star Hotel Westport offers beautiful rooms (129), a luxurious spa and fine dining. In the heart of Westport, it is located on the grounds of Ireland's most beautiful home: Westport House. The museum house brings visitors back in time to the 18th century with a fascinating story and the opportunity to experience Victorian Tea or special occasion dining.
Speaking at the Awards, Elizabeth Crabill, Chief Executive Officer, CIE Tours International said: "2018 was a fantastic year for the tourism industry in Ireland, with next year expected to be as good, in spite of uncertainties created by Brexit and other external factors. The hotels and attractions which have been recognised here all deserve acknowledgment for the roles they play in making Ireland a leading destination for visitors across the globe and ensuring tourists enjoy a memorable experience. And this is not me saying it, it is the 32,000 visitors who filled out our survey forms and told us about their experience."
~ Ends ~
2018 Awards of Excellence HOTEL MERIT WINNERS
Connacht Hotel Merit
Hotel Westport (10th Consecutive Year in a Row)
The Lodge at Ashford Castle
Salthill Hotel
The Galmont Hotel & Spa
Ashford Castle
Castlecourt Hotel
2018 Awards of Excellence VISITOR DESTINATION MERIT WINNERS
Connacht Visit Merit
Westport House
Connemara Celtic Crystal
Kylemore Abbey
Dan O'Hara Homestead
Ballintubber Abbey
Dún Aonghasa