WESTPORT HOUSE NAMED BEST EXCLUSIVE WEDDING VENUE IN IRELAND
Westport, Co. Mayo, Ireland (Thursday, February 17, 2011) – The glitterati of the wedding industry descended on the Crowne Plaza in Dublin for the 2nd annual WeddingsOnline.ie Awards on Valentine's night last.  Among 3 Mayo venues shortlisted for various awards, Westport House & Gardens scooped the coveted, first-time award for Best Exclusive Wedding Venue in Ireland.
The WeddingsOnline.ie Awards are run each year with fairness, transparency and merit at the core. It uses a complex process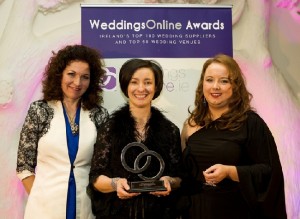 to determine the winners for the various categories and this includes Applications submitted by all candidates, Public Voting by thousands of brides and grooms for their favourite wedding suppliers and Mystery Shopping carried out by independent research firm, Direction Research. Armed with this information, the team of independent judges which included Gavin Duffy of Dragon's Den fame, made the final decision based on quality of work and experience.
"We are thrilled to be acknowledged as the Best Exclusive Wedding Venue in Ireland," said Sheelyn Browne, Managing Director of Westport House.  "In addition to providing a stunning backdrop in which to celebrate the happiest day in a couple's life, we focus on making sure that it one that they and their guests will never forget and ensure that everyone receives five star service and attention."
"It's great to be able to acknowledge and reward the hard work of wedding suppliers throughout the country," said Peter Bryans, CEO of WeddingsOnline, "and to highlight that commitment to quality; and dedication to excellent service, is continuing to thrive.  Congratulations to Westport House".
To see the winners of each category, please visit http://www.iwi.ie/winners