Last Sunday, our Annual Open Day in aid of and in celebration of the 50th Anniversary of Western Care Association was a MASSIVE success!  We were blessed with great weather, a great turnout, great atmosphere, great entertainment, great craic and a really great charity.
We are delighted to announce that €10,000 was raised through the event for Western Care.  Both Western Care and Westport House would like to thank all of the people who gave generously to all the bucket shakers and in the raffle – instead of paying for admission to Westport House on the day.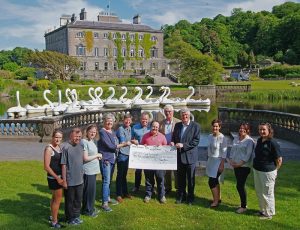 An event like this doesn't happen on its own and so its important to thank all of the hard-working folks who made it happen.  Raising €10,000 would not have been possible without the support, help and hard work of the following folks:
The Browne Family – Lady Altamont and daughters Sheelyn and Karen Browne (joint managing directors of Westport House) who very generously opened the award-winning Westport House & all of the rides and attractions in the Pirate Advenure Park for FREE
The whole team at Westport House who made sure that everything ran smoothly
Joe Brett from Western Care for coordinating all of the signage, volunteers and millions of the details behind this event
The team at Westport House's onsite adventure partners – The Adventure Islands and Adventure West for offering zipwire rides and the high ropes frame
The musicians who provided wonderful entertainment today – Cian Harrison, Niamh and David and Flat Out!
All our volunteers who helped out today – collectors, raffle ticket sellers, face painters and car park attendants
The Local Gardai
Our Many Sponsors
Everybody who attended on the day and dug deep to support with donations, purchased raffle tickets, etc.
The Monster Raffle was a massive success and we wish to sincerely thank everybody who supported it and, in particular, our generous sponsors. The results are as follows:
1st Prize: Margaret Leneghan
iPad Mini sponsored by Galmac Computers, Galway and Multi Packaging Solutions
Westport
2nd Prize: Mary McShea
Weekend for 2 people in The Mill Park Hotel, Donegal (B&B + I Evening Meal)
Sponsored by the Park Hotel, Kiltimagh
3rd Prize: Judith O'Connell
Westport House Family of Four Annual Membership
Sponsored by Westport House
4th Prize: Jason Kelly
Two Adult Tickets for Hooley @ The House, June 12th plus Lunch @ Gracey's
Sponsored by MWR FM & Gracy's Bar & Cafe @ Westport House
5th Prize: Claire Higgins
Two Adult Tickets for Hooley @ The House, June 12th plus Lunch @ Gracey's
Sponsored by Sponsored by MWR FM & Graceys @ Westport House
6th Prize: Caroline Fleming
Bicycle Hire on The Great Western Greenway for a Family of four people
Sponsored by Clew Bay Bike Hire
7th Prize: Rachel Barrett
Bicycle Hire on the Castlebar Greenway plus lunch
Sponsored by Bikes & Boards and Bosh, Castlebar
Western Care has been in touch with all winners directly already. We all hope you enjoy the prizes.