Although this is a tough time on everyone. It can be a time where you get your children to alight their imagination, get them back into nature and get them to see that they can make fun out of those things that are free to us, rocks, water, flowers and dirt! That's why we will be sharing our weekly "Fun with Nature" ideas to help you and your kids enjoy mother nature and all that she provides us.
If you are limited to what resources you have in your garden, maybe you can make your daily 2km walk into a scavenger hunt and bring a basket and pick up all you need. If you're lucky enough to live close to Westport House Estate, you will find everything you need here in our Woodland & Riverside Tracks & Trails. Good Luck.
EggHeads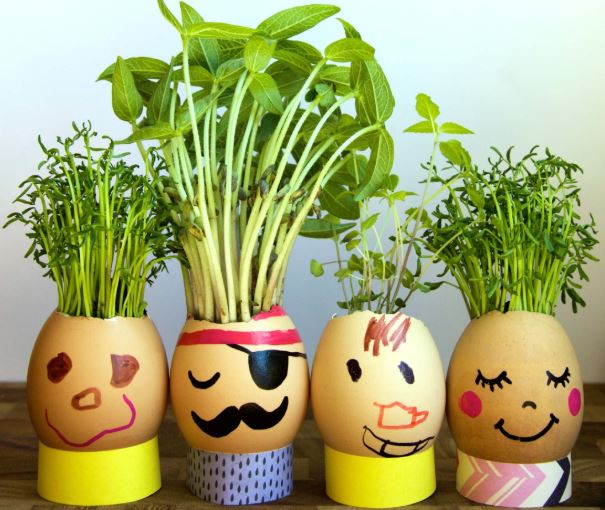 This project has something for everyone – sensory goodness for the toddlers, introductory science for the preschoolers, and environmental awareness for all of us. Most of it can be done by the kids themselves, which fosters a sense of self-reliance and pride. It requires some patience, but the payoff is quick enough to keep this interesting, satisfying, and even a little funny.
What you need:
Eggshells
Seeds (we recommend using wheatgrass and alfalfa, both of which sprout quickly)
Soil (just scoop some up from the back yard)
Permanent Markers (Sharpies and Sharpie paint pens)
When emptying your eggs try and only make a small hole in the top of the eggshell, drain out the egg and keep the egg top. When preparing the soil crush and mix in the eggshell bits you put aside from the egg top – a multi-sensory experience for your kids that will leave the soil richer. As you work together, talk with your kids about what the plants need — nutrients, water, and sunshine. Spoon in the soil about 3/4 way up, sprinkle some water, add in the seeds and add another layer of soil. Sprinkle some more water. Then the fun part, decorate the egg heads however you wish, you can even give them names to make them characters! You can use little bits of cardboard ot even use the top of your cereal box to make coloured stands for your little friends.
Put your planters in a dark, shady spot for the next few days, visiting them often to mist them with water. When your child starts seeing real growth, it will be egg-citing indeed. When your child starts seeing real growth, it will be egg-citing indeed
Nature Curtain
This is an easy to do, creative way for kids to create something they can be proud of. You can use rocks, seashells, daisies, flowers, leaves, whatever you can find in your own back garden! All you need to do is hang up a piece of string between two trees or across your garden fence. Then Tie multiple pieces of twine down off the curtain and let your kids decorate it however they wish.
Outdoor Kitchen
Ahh is there anything better than a good mudpie! Most kids are curious about cooking and what goes on in the kitchen (anywhere there's food involved!) But we always have to be so careful and restrict them to keep them safe here. But what about an outdoor kitchen? No barriers, let them put on some old clothes and let them take charge of their own kitchen. Let them make whatever it is they want with water, mud, rocks worms whatever! This kind of unbridled mess-making frees up kids to develop genuine creativity.
Make your own Birdfeeder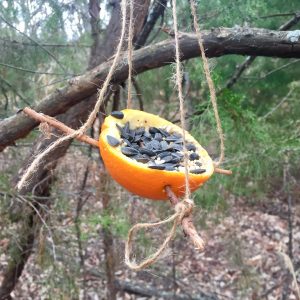 What you need:
Small twigs
Oranges
Birdseed
Bucket/container for seed
Spoon or scoop
Yarn or twine
Cut the oranges in half and Scoop out the contents (and enjoy!). On each hollowed-out half, cut an x through the orange skin, aiming to get the x about ¼ inch below the rim. Rotate the orange to make 4 such cuts, each ¼ of the way around the orange.
Engage kids to the extent they are able to help: Poke a stick straight through the orange between two opposite holes. Poke a stick through the other pair of opposite holes. Cut four pieces of string, twine or yarn, each about 2 feet in length. Then tie each piece of string to a different end of the two sticks.
Walk outdoors and find a tree limb or other hanging spot for your feeder. Tie the loose ends of the four strings together around a branch to hang the feeder up. Lift your child up and spoon or scoop bird seed from your bucket into your feeder. Stand back and observe who comes to your feeder. Watch how your feeder changes over time. Re-up the birdseed as needed, too!
Stay tuned for next weeks Fun with Nature Ideas!