We have found a new passion through this pandemic – walking & hiking! And the whole family has got on board. Well, mostly. For some, its more of a "do we have to?" than a passion. So sometimes in our house, we need a carrot to incentivise putting that one foot in front of the other. Check out these local walks that appeal to the kids as well as the adults….from sand dunes to whipped cones, woodland adventures to wildlife. Read on for our top 5 walks in the 3-5k range for when you can visit us.
The Railway Greenway (5km out and back) – because this 2.5k long greenway is built on the old Westport Railway from the town Station to Westport Quay line, it is mostly flat and entirely tarmacadamed with no major hills. Couple that with stops en route that include a skate park, an outdoor gym, an insect hotel and an outdoor basketball court, it's a clear winner for the little ones. We sometimes cheat and bring scooters for the whole tarmacadamed walk – the means the kids have the craic racing one another or in the park and Mum and Dad get to work up a sweat chasing them. Park at the car park on Mill Street in town and ascend the hill. We go left first as far as the "start" and then double back to the quay and turn back the way you've come to complete the 5k. We also sometimes hit up The Harbour Stores for a half way treat – exit the greenway once you see the sea and continue to the quay – turn right and walk around 200m passing the houses, the Towers Bar and the Westport Coast Hotel. Fantastic ice cream cones with toppings as well as an all round great seaside store. Double back the way you've come.

Skate Park on the Railway Greenway

Knockranny Woods (up to 5km depending on the loops chosen) – another town centre walk, this recently reclaimed recreational space was a commercial woods that has recently been opened up into looped walks. It's a little rough and ready but that only adds to the charm (top tip – bring wellies for some fun mud action). There are homemade tipis to explore and a beautiful Rocks Treasure Hunt kindly put in place by a generous hearted local (if you know who, please tell us in the comments below). The forest floor itself is like a natural trampoline – bouncy after years of layers of pine needles falling on to it. Well worth it! Park in town and head towards Altamont Street, walk up behind the old convent past Clew Bay Bike Hires shop and follow the greenway signs that will take you behind the convent and over an old viaduct. Around 100m after the viaduct at the boys secondary school pitches, you'll see a wooden fence on the right and a stone path. Start there and take whatever loop takes your fancy.
Bertra Beach (up to 5km out and back) – an 8km drive from Westport, you will head out the coast road past Croagh Patrick and after 1km, turn right to Bertra or Bartra beach( as it's signposted). Park in the carpark and visit the loo if needs be before setting out. Now our kids always want to do the dunes first for hide and seek but you can also hit the beach on the way out and dunes on the way back. The trick to getting a longer walk in at Bertra is to continue beyond the dunes. You'll have to navigate around 100m of stones before you get to Rabbit Island where you can loop it twice to make up the full 5km. On the way back, enjoy spectacular views of Clare Island and Croagh Patrick, stop for a paddle or to skim stones.

Panoramic view of Bertra Beach

Brackloon Woods (4km loop) – circa 4km outside of Westport Town, set your Google Maps or GPS to Brackloon National School for limited parking and turn right to walk to the woods entrance. Its a sheltered woodland in the foothills of Croagh Patrick. The Owenwee river passes through it providing a special stopping point to view it and soak up the sounds of the rushing river. Do take care. We tend to bring jellies for this loop, sometimes little legs need that sugar to keep on trucking. There is lots of off-path exploring to do so bring wellies and take your time.
Westport House Estate (4km loop) – another trail right in the heart of Westport, you can loop this privately-owned estate to take in the myriad of pleasures of this stunning historic estate that has been generously opened to the public to walk for free.  On this walk, you take in Ireland's most beautiful historic home as well as the Coach House and Farmyard buildings, groomed gardens, views of Clew Bay as well as woodland, parkland and the lake. Stop at the Coffee Wagon en route for a whipped cone and a locally made Bean West Coffee to give you sustenance.  Or grab a Pizza while the kids play in the playground at Gracy's Pizzeria & Bistro.  Bonus points for the kids: during school holidays, check out the Pirate Adventure Park on the estate which features rides, slides, boats and trains to entertain the whole family. A different kind of exercise but one that's guaranteed to create memories to treasure!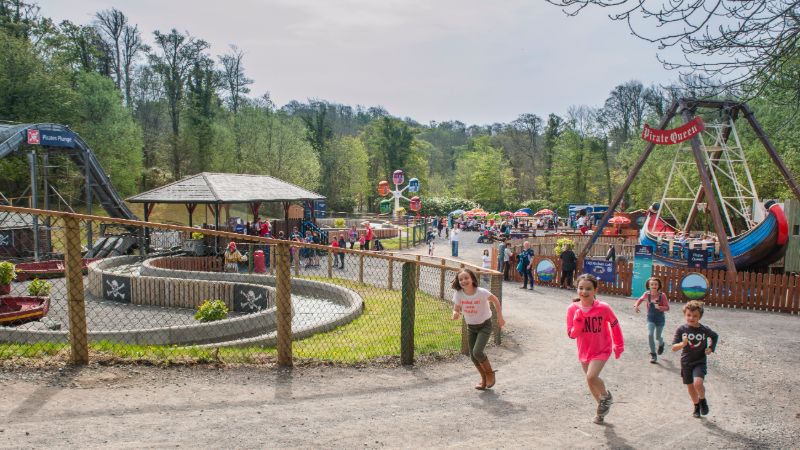 On your walks, you are asked to kindly #LeaveNoTrace. Please keep dogs on leash and clean up after them. And remember to bring your rubbish home.
Looking for a place to stay in Westport? 
Consider a night under the stars for that ultimate outdoor adventure – bring your own van or tent to camp with us or if that sounds like too much hassle to you,  you can hire one of our Bell Tents complete with beds, kitchen box, outdoor seating and more!  If you fancy some more comfort, check out family friendly Hotel Westport, the only hotel on the Westport House Estate (and yet only a 2 minute walk into town), with pool, outdoors kids club, free ice cream daily and evening time magic shows at dinner.