Support Childline Castlebar
at Halloween Fest in Westport House on October 29th
Westport, Co. Mayo, Ireland (Friday, October 7, 2011) – Kick off your mid-term break by helping children who need support, empowerment or protection – and have some Halloween fun while you do it.  On Saturday, October 29th, Westport House will be raising funds for Childline Castlebar, with a portion of proceeds raised on the first day of its Halloween Fest event going to the local children's charity.  Sales of eery ticket to Halloween Fest and meals bought at Gracy's Café as well as each zorb ride with Adventure West will go to helping deliver the phone, online and text services that Childline provides to local Mayo children in trouble.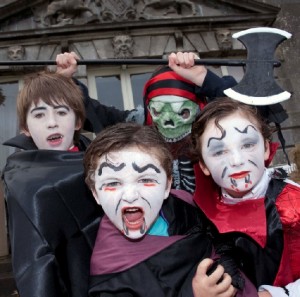 Double the "feel good factor" because for the duration of the mid-term break from October 29th to November 6th, you and your little monsters will have a hauntingly good time at Halloween Fest as you experience the thrills 'n' chills of the Pirate Adventure Park –board the eerie Westport House Express train ride, get into high 'spirits' on the swinging ship and swan boats on the lake, have a devilish time on the cannonball run slide, and take the plunge to death on the log flume water ride.
Free in-door fun all day in haunted Westport House
Bite the Halloween apple when you step into the stunning 18th century Westport House, which will be transformed into a (not too) scary haunted house for the week.  Your little devils will be mesmerized by the captivating White Witch's story time, while the Lord of the Darkness and his friends will ensure they looking frighteningly good.  Learn the zombie moves from the Michael Jackson Thriller music video  in our twice-daily family dance workshop or get stuck in to making your own Jack O'Lantern to bring home for the holiday. All additional activities are included in the regular cost of a one-day Pirate Pass or Annual membership.
Find out more information about Childline
The dedicated volunteers from Childline will be onsite to answer any question visitors may have as well as selling bands, cookies and cakes to support their efforts.  You may visit www.childline.ie for more details of the services they provide.
Fireworks Extravaganza on Sunday, 30th October at 7pm
Come back on Sunday night to get a treat (no tricks promise) with an explosive Fireworks Extravaganza on the front lawn of Westport House.  Make sure you dress to impress and look scarily good as you could be in with a chance to win some fantastic prizes in the costume competition – adults too!