Circus, Fireworks, Drive In Movies, Halloween Celebrations and Christmas Experience
Westport, Co. Mayo, Ireland (Friday, September 9, 2011) – Westport House, the recent winner of the Best Family Visitor Attraction Star Award from Primary Times, has announced its Autumn-Winter season plans.  With an aerial dance theatre/circus and fireworks, drive in movies and Halloween celebrations, a magical Christmas experience as well as monthly Car Boot Sales, there will be something to delight everyone in the family.
WESTPORT HOUSE & GROUP VISITS
Westport House & Gardens is open daily to the public in September as well as weekends in October and November from 10am to 4pm.  With four permanent exhibitions, self-guided tours, refreshments onsite, a new Grainne Uaile Experience and 30 rooms on show, it provides an excellent day our celebrating the history of the Browne family and Irish heritage.  Groups are welcome to drop in or ideally, make a prior appointment and pre-book a guided tour lasting 45 minutes.  A particularly beautiful time for the grounds of Westport House, we encourage you to come visit during Autumn.  While the house is open for Winter Wonderland for weekends in December, it is closed for January and February.  Please note that the pedestrian gates will open according to these new seasonal opening times.
WESTPORT ARTS FESTIVAL EVENTS
Drive In Movies – September 23 to October 9
Due to its phenomenal success last year, the Arts Festival Drive in Movie in the Farmyard returns nightly from September 23rd to 30th. With movies for everyone– The Jungle Book to Casablanca – tickets must be booked in advance.
Fidget Feet – Aerial Dance Theatre – October 1, 2 & 9
At the bottom of Church Lane is a door that hasn't been opened for 100 years. This door leads to the world of Buglite, the only fairy left that hasn't become a character in a computer game. Aerial Dance Theatre group Fidget Feet promise to invoke the imagination, provoke the senses, and evoke the emotions as the production moves through the woods, onto the front lawn, stopping at the old church and alongside the river at Westport House.
HALLOWEEN FEST AT WESTPORT HOUSE – October 29 – November 6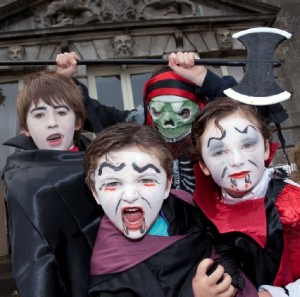 Turn up the volume on family fun with Westport House's annual Halloween Fest running all mid-term break long.   Get amongst it with the thrills 'n' chills of the Pirate Adventure Park – board the Westport House Express train ride, the swinging ship, cannonball run slide, sail the swan boats on the safe lake and take the plunge on the log flume water ride.  Halloween really kicks into high gear as the stunning 18th century house is dressed up as a (not too) scary haunted house, offering family workshops,  the captivating White Witch's story time for the little ones, Scrooge and other costumed characters as well as face painting.  All of these additional activities are included in the regular Westport House & Pirate Adventure Park ticket prices making Halloween Fest fantastic value for the family.
FIREWORKS EXTRAVAGANZA, October 30 at 7pm
Over the October bank holiday weekend, don your best Halloween costume and watch the Fireworks Extravaganza on the front lawn of Westport House where you can boogey to your favourite Halloween tunes.  Just be sure come dressed to impress – both grown-up's and children will be rewarded with fantastic prizes in the Costume Competition.
WINTER WONDERLAND, starting November 27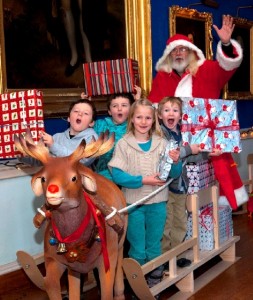 Come visit Westport House for a magical Christmas Experience – Santa and his Elves will welcome all into the magnificent grotto at Westport House. Get into the Christmas spirit with a hot drink and have your face painted. Join in the Elves Workshop where you can paint your own decoration or drop in and listen to Mrs Claus' magical Christmas stories. Select your preferred timeslot when you book online at www.WestportHouse.ie.  Open last weekend in November, every weekend in December as well as December 8th, 23rd and 24th. Groups and school tour visits are welcome mid-week by appointment only. Advance booking is STRONGLY advised to secure preferred dates and times and will be available online from September 19th onwards.
CAR BOOT SALE
Join us the second Sunday of every month from 9am to 2pm to browse or sell some bric-a-brac.
There's always something happening at Westport House. Check out our Adventure Park, take on the Interactive Gaming Zone or enjoy a pizza at Gracy's.