Groups Can Now Enjoy Sheep Herding at Westport House
Up until the 1950's, Westport House estate supported itself as a working farm.  In fact, it is still home to the largest set of Victorian farm buildings in Europe.
And so, it is with great glee that we are adding a new group offering to our heritage mix:  Sheep Herding Displays.
In partnership with Catherine and Jim from the award-winning Glenkeen Farm, groups visiting Westport House can opt to add on a 45 minute sheep herding display to their guided tour of Westport House.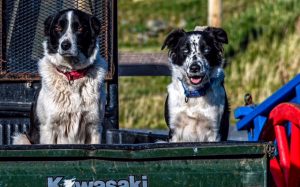 The sheep herding display lasts 45 minutes and includes:
Long range sheep herding by the adorable mother and daughter sheepdogs, Holly and Liz
Up close sheep herding
Opportunity to feed baby lambs
Short talk explaining why we have techni-coloured sheep in Ireland and the tagging process
An opportunity to ask any question you can think of about our furry fellow Irish compatriots
The displays are a big hit with both children and adults alike. We can arrange them any day of the week or year by prior appointment. We simply ask that the group be no smaller than 15 people.
Check out this short snippet of a display:
We offer a range of memorable experiences for groups to include:
If you have any other ideas for ways in which we can wow your group, we are all ears!  We would love to try to deliver it for you if we can.
If you're interested in discussing options for your group's visit to Westport, please contact us today, we would love to roll out the red carpet for you!
There's always something happening at Westport House. Check out our Adventure Park, take on the Interactive Gaming Zone or enjoy a pizza at Gracy's.