If you've been following our weekly guide, you will be pretty organised at this stage of the planning process. you will have an idea of what you want and don't want and your vision of your wedding will be coming together nicely. So here's where the fun begins. Follow these next steps to the wedding of your dreams…..
Bridesmaid Dress Shopping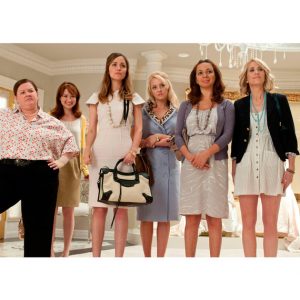 This can be a tricky one to organise, that's why this is the top of the list this week. Depending on your bridal party and their locations, it might be difficult to get everyone together and decide on a date to go looking for dresses. If you have bridesmaids that don't live in Ireland, you need to think about your timeframe, because once you decide on a dress, the store may need to order it in and then you may have to ship the dress over to your bridesmaid for them to get fittings done.
*Top Tip You may have a colour scheme in mind, be sure to compare the colour against Ivory or White (depending on the colour of your dress) as it might be a little washed out in comparison or mabey it will look similar to you and that's what you want!
Book Florist and Discuss your options
By now you will be sure of your colour scheme and what colour your Bridesmaid will be so you can discuss options with your florist. Don't be afraid to put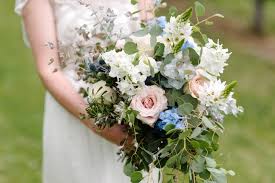 those Pinterest boards to good use and send on the photos you like, you are not a florist and you don't know all the names of the flowers you like so let them tell you what will work and what won't. Also, don't be afraid to take their advice, some flowers may look better artificial for example if you want a wrist corsage on the Mother of the Bride, artificial may work better on the wrist as it might get a bashing through the day, let them advise you.
Research and Book Hair & Make-up Trials
You may or may not already have an idea of who you want to use, but first things first you need to inquire if they have your date available, then find out if they are willing to come to your house/venue or if you need to travel to them and decide if this is doable the morning of your wedding. Once you've decided that the logistics will work, book a trail. If you can book your hair and make-up trial on the same day so you get an overall look of what it will be like on the day, even better if you can arrange it for the same day as a dress fitting. we have an onsite Hairdresser and Beauty Therapist/ Makeup Artist who would be happy to do trials for you, they would also be available to get you and your bridal party ready the morning of your wedding in your Bridal Suite here in our 4 Star Hotel Westport.
*Top Tip – try and go out that night/day when you have your hair and makeup done, test its longevity, does it last, do you find you're getting shining a few hours after application? We're not saying to go out headbanging that night but you do need to know if that updo is gonna stay in or do you need more pins next time, are your curls coming out easily? Will it will last the whole day and night of your wedding? Plus with all this planning it could be an excuse for a well earned night out!
Book your Wedding Transport
Again by now, you will know what you want, a traditional wedding car, vintage car, limo or mabey your not too bothered about the wedding car and know somebody who has a nice car and is willing to drive you that day. But remember your Bridesmaids and Groomsmen will also need transport.
Hen / Stag Party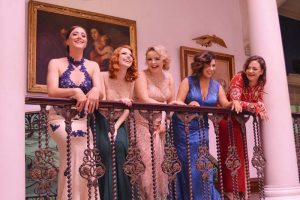 Let your Bridal party know what you want, not everyone wants the same type of Bridal Party or Hen night. If you're looking for something a little different why not try something like a Down Town Abbey Themed Bridal Party here at Westport House. Westport House provides a stunning backdrop for your classy, vintage hen party where you'll go back in time and be treated like the ladies you are! Soak up the interiors, enjoy the story of this beautiful house, get crafty or have your own professional photo shoot while you sip bubbly and enjoy delicious treats!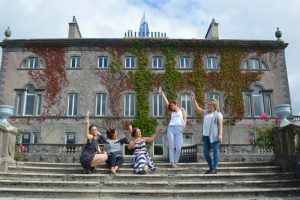 Or mabey you want the best of both worlds, enjoy some Afternoon Tea in the decadent Westport House, followed by some gorgeous treatments in our Senses Spa, then retire upstairs to your room in our 4 Star Hotel Westport to get ready for a great night with our Onsite Hairdressers Sally K's and with Dinner in our award-winning Islands Restaurant and then hit the town of Westport for some fun and let your hair down. Whatever kind of a night you want we have it all covered for you here on our 400-acre Estate so call us to get a quote for your customised Hen/ Bridal Party with a difference. 098 27766 or email [email protected]
You should now be down to your last few months before the Big Day now so tune into next week's edition to see ensure you have everything you need in the run up to your big day.
Happy Planning ?