The wedding of John Ulick Knatchbull, 7th Baron Brabourne and Patricia Edwina Victoria Knatchbull and its connection to Westport House.
Westport House is currently undergoing phase one of a restoration project that is expected to be completed in February 2022. It will see much-needed conservation work carried out to the Georgian-era home to help protect the contents and stories of the house for many more generations to enjoy.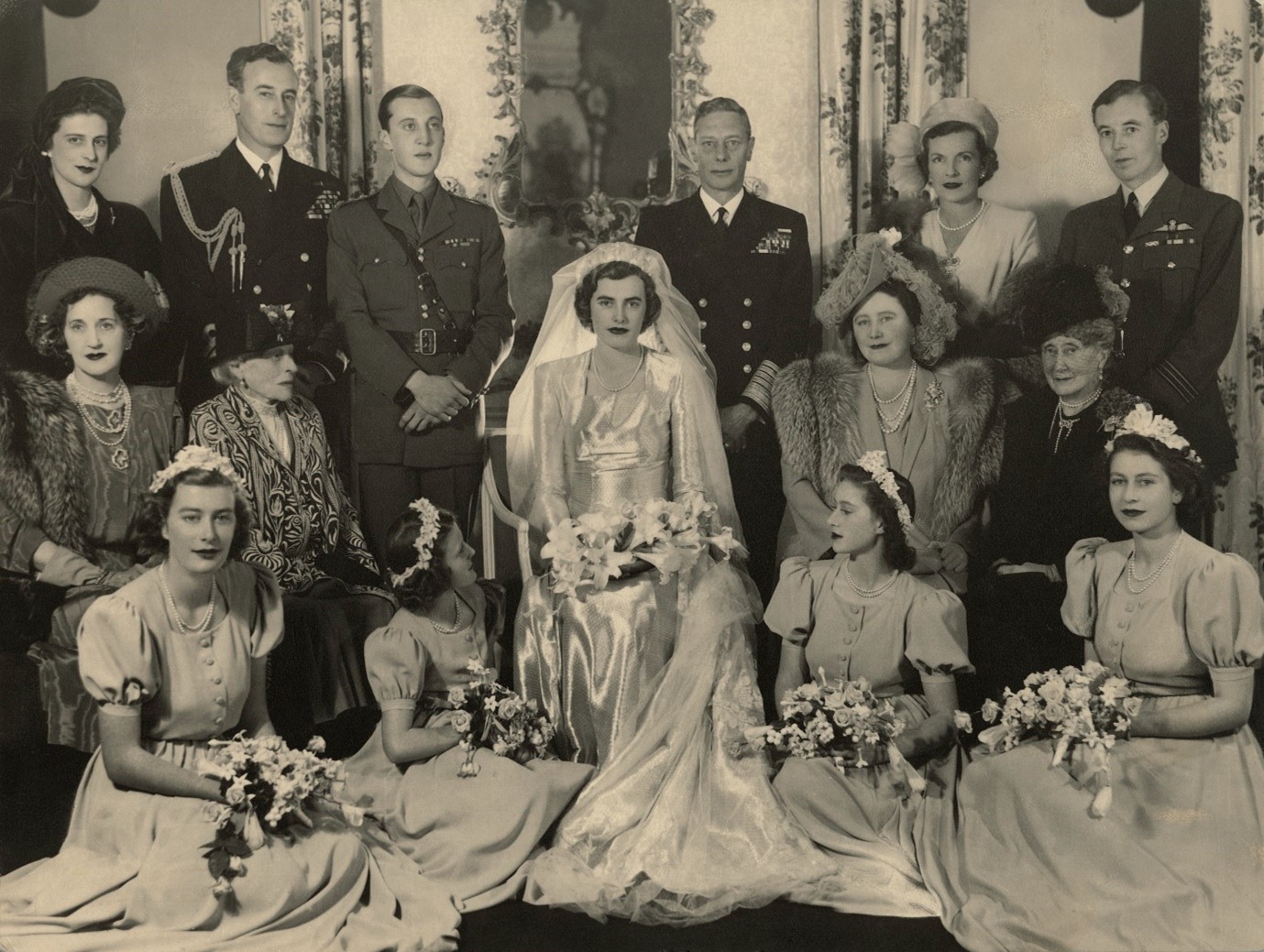 Top: Left to RightPrincess Marina, Duchess of Kent; Louis Mountbatten, Earl Mountbatten of Burma – Admiral of the Fleet; John Ulick Knatchbull, 7th Baron Brabourne; King George VI; Edwina Cynthia Annette (nee Ashley), Countess Mountbatten of Burma; Charles Dugdale Harris-St JohnMiddle: Left to RightDoreen Geraldine Knatchbull (nee Browne), Lady Brabourne – daughter of 6th Marquess of Sligo; Princess Victoria Mathilde Marie, Marchioness of Milford-Haven; Patricia Edwina Victoria Knatchbull, 2nd Countess Mountbatten of Burma; Queen Elizabeth, the Queen Mother – Queen of George VI; Agatha Stewart (nee Hodgson), Marchioness of SligoBottom: Left to RightLady Pamela Carmen Hicks (nee Mountbatten); Princess Alexandra, Lady Ogilvy; Princess Margaret, daughter of George VI; Queen Elizabeth II, Queen Regnant
The Story behind the Photograph
The photograph captures the wedding day of Patricia Knatchbull to John Ulick Knatchbull. Patricia was the daughter of Admiral of the Fleet, Earl Mountbatten. John was the son of Doreen Brabourne (nee Browne) who was the daughter of the 6th Marquess of Sligo, George Ulick and Agatha Stewart Browne. The wedding occurred on the 26th October 1946 in Romsey Abbey, a market town in Hampshire, England – the happy occasion was attended by King George VI, his wife, the Queen mother, Elizabeth and their daughters, Elizabeth and Margaret, both of whom were bridesmaids at the wedding.  Also in the photograph are Doreen and her mother the 6th Marchioness of Sligo Agatha – the 6th Marquess George Ulick had passed away in 1935.
See below a short clip of the Gaumont British Newsreel (REUTERS) recording the wedding as posted on the British Pathe YouTube channel.
George Ulick was responsible for many changes at Westport House – he introduced plumbing and electricity in the early 20th century. He was also responsible for the beautiful terraces at the rear of the House which boasted an immaculate Italianate Garden and Ladies walk from the Summer Pavilion across the jetty on the lake to pleasure gardens of Westport House. The walk was enhanced by a wonderful array of exotic plants and trees, such as Japanese azaleas and jasmine to enliven the senses. George and Agatha were very proud of their home here at Westport House. The couple had four children, three girls and a boy – their son Ulick became 7th Marquess of Sligo. Doreen was their youngest daughter – she married Michael Knatchbull in 1919 and had two sons Norton and John. Norton, a Lieutenant in the Grenadier Guards, was killed in 1943 during World War II.
Tragically, on the 27th August 1979, Doreen was on the fishing boat in Mullaghmore, Co Sligo that was bombed resulting in the death of Lord Mountbatten, his grandson Nicolas and a local teenager, Paul Maxwell. Doreen died from her injuries the next day on the 28th August.
Copy with thanks to Kathryn Connolly, Supervisor at Westport House, video clip with thanks to British Pathe and photo credit to and posted with permission from Mary Evans Picture Library
Restoration Project
If you're an avid reader of these blogs, you will know that we started Phase 1 of this restoration project on Westport House earlier in 2021.  It is the first phase of a restoration project that is expected to be completed in early 2022. The restoration project is estimated to cost in the region of €5 million and is fully funded by the Hughes family.  It will see much needed conservation work carried out to the Georgian-era home to help prepare it for the larger €75m development project announced earlier this summer. 
AND, this historic Estate has some more surprises in store! Did you know we have a premier Caravan Park & Campsite as well as a gourmet toastie shack and leisure centre?