International Mini Meeting Picks Westport House for 2017!
Westport House is delighted to announce it will host the International Mini Meet 2017 next May 26th to 29th, a large gathering of classic Mini enthusiasts from the four corners of the world.
For the second time in 20 years, the International Mini Meeting will be proudly hosted by the Irish Mini Owners Club, Ireland's largest classic Mini club.   Earlier this year, the Irish Mini Owners Club travelled to the beautiful town of Lommel in Belgium to accept the Event Key for the International Mini Meeting. This spectacular event will see thousands of classic and new Mini enthusiasts come together with their cars. They travel to a different country in Europe each year to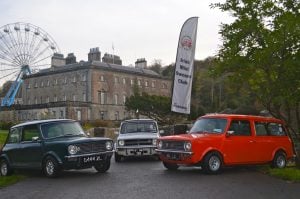 celebrate the Mini car.
The 4 day event will be held in the stunning setting of Westport House, in Co. Mayo on the 26th – 29th of May 2017.
For more info on the event, check out www.imm2017.ie or IMM2017 Ireland on Facebook.
There's always something happening at Westport House. Check out our Adventure Park, take on the Interactive Gaming Zone or enjoy a pizza at Gracy's.