Gorgeous Georgian fare in sumptuous Westport House Pop-Up Restaurant
It's not every day you get to live the life of a lord or lady, but here at Westport House, we give you the chance to do just that. Join us any Saturday night in August for an intimate taste of Georgian life. A once-in-a-life-time chance to feast on food from one of the most defining eras in Irish heritage, prepared by one of the country's most-respected chefs, and all in a magnificent and truly genuine setting.
The evening takes place in the house's stunning drawing room, not normally open to the modern-day public to protect the spectacular original floors from too much footfall. The night includes a welcome drink, a seven-course tasting menu and a fascinating talk on the history of food and culinary operations at Westport House, delivered to diners by Chef Áine McGuire herself.
The menu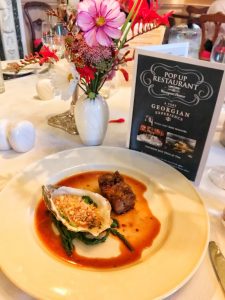 Our Georgian Experience seven-course tasting menu has been lovingly researched and painstakingly created by Chef McGuire (formerly of The Idle Wall, Westport; The British Ambassador's Residence, Dublin; and The Winding Stair, Dublin).
Eager to accurately reflect the fare of the era, Áine pored over the pages time-honoured culinary tome Mrs Beeton's Book of Household Management (1861), as well as the Westport House 'Dinner Books', discovered in the Westport House Papers Collection, for inspiration.
Made using only the very best local and seasonal products, the menu allows guests to rediscover many old-world wonders that reflect the tastes of the times but given a twist to ensure they will appeal to the modern palate.
While the Georgians would have happily tucked into swan, mutton and pickled nasturtium seeds, we might not find these ingredients quite as appealing. Don't worry – these and other ingredients have been replaced with ones that, while remaining sympathetic to the flavours and textures of the original dishes, are more palatable to today's diners. No point in attending a Georgian feast you don't want to eat!
Banqueters might initially raise an eyebrow at Hedgehog Soup, but rest assured, none of these endangered little hedgerow critters are used – not even as toothpicks! Here, 'hedgehog' refers only to the dish's traditional presentation in Georgian times….
Jumbled Syllabub is as lovely to eat as it is to say. A light and lemony dessert, balanced with a hibiscus-fower syrup, it was – and still is – guaranteed to linger on lords and ladies' lips.
The setting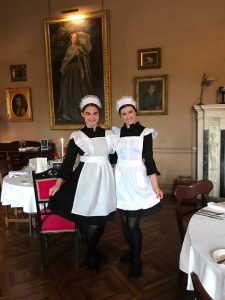 The drawing room, where the ladies would 'withdraw' to after dinner, was typically one of the more elaborate rooms in a Georgian house – and so it was in Westport House. Filled with expensive furniture, paintings and antiquities, guests were greeted and entertained in this room, where they would be left in no doubt of the owners' wealth, breeding and societal status.
The Westport House drawing room boasts a spectacular oak parquet flooring that dates from 1855 and is considered one of the finest in Ireland. It was installed by the third Marquess of Sligo, George John Browne (1820-1896). (Incidentally, during the Famine years, George Browne was a sympathetic landlord, giving his tenants guns so they could hunt for game, establishing a large soup kitchen for peasants, and getting into considerable debt by importing cornmeal from the Americas).
But this room is much more than its floor. Georgian Experience diners are encouraged to tear their eyes away from their plated fancies if they can, and gaze upwards to appreciate the delightful blue-sky ceiling, which dates to the early 19th century. Around the edge of the ceiling is a frieze depicting scenes of Pompeii. The stunning George III Waterford-glass chandelier and marble fireplace add to the sense of splendour.
While the drawing room is off bounds to the public, it is available for hire, for weddings, corporate events and other private functions. And what an setting for any of these occasions – impressive, cultured, historic, romantic, authentic. It has all the genteel grandeur of the Georgian era, complemented by the all the styles and historical influences of the following years.
A heady blend of Dangerous Liaisons, Downtown Abbey and Lords and Ladles, Westport House offers its guests a window onto another world, a unique experience that will live long in their memories.
###
Ready to Book Your Table?
A Very Georgian Experience takes place at Westport House every Saturday at 7pm until August 25th. Tickets for this temporary restaurant, priced €75 per person, are available by calling 098 25430. Book now to avoid disappointment. Wine pairings are available at an additional cost per bottle.
There's always something happening at Westport House. Check out our Adventure Park, take on the Interactive Gaming Zone or enjoy a pizza at Gracy's.