A dramatic and colourful Italian opera
The Italianate Gardens of Westport House lie in what is now known as the West Lawns, and they are being painstakingly restored so that they can dazzle visitors once more.
These gardens were originally created as an integral element of the Italianate Terraces in 1915, allowing the house's residents and visitors to 'take the air' in a refined fashion. No need to worry about catching a dainty dress or dandy jacket on a bramble. Structured pathways among planted patterns guaranteed that the lords and ladies could return to the house without suffering the indignity of a muddy hem.
All Italianate garden design is based on a very formal layout based on strict geometrical shapes. Accordingly, the Westport House Italianate gardens were centred around two key features – both of which remain today.
The tomb and the pond
The first key feature is the 3,000-year-old Greek sarcophagus that was 'liberated' from its homeland at Mycenae in Greece by Howe Peter Browne, the Second Marquis of Sligo. When it was first installed at the house, this ancient box-like burial tomb, fashioned out of stone, was awarded the central position in the garden – a position it still occupies today.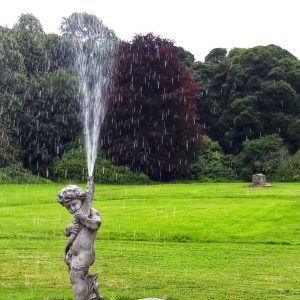 Second is the recently restored Italianate pond with its charming water feature – a Raphaelite cherub holding a pike fish that spouts water to create a fountain that cascades into the pond. The fountain appears to be inspired by another by 15th-century Italian sculptor Andrea del Verrocchio. However, the design of the four carp-like fish at the foot of the boy's pedestal looks a little more Chinese than Italian. What do you think?
Working together with Mayo County Council and the conservation architects for the house and terraces, we set about the restoration for the pond. On close examination of pond and the fine concrete work that forms the exterior wall, it was noted that concrete boxes that clustered at the centre of the pond were a much later addition. We decided that if we were to restore the pond, we should restore it to its original state, and so those later additions would have to go.
After we removed the non-original concrete structures, we set about cleaning the basin of the pond, before applying a concrete-based tanking sealer. A new pump was instated allowing water to flow in once more, restoring the pond back to its former glory. It's a real shimmering beauty and well worth a visit.
Hidden pathways revealed
The recent heatwave scorched the earth all over the country, revealing traces of all sorts of architectural delights, including a hither-to-hidden henge at Newgrange.
Well, here at Westport House, we have had our own discovery thanks to the prolonged spell of hot, dry weather. As the colour of the lawned grass began to change with the lack of moisture, variations emerged, and soon the outlines of the Italianate Gardens' original pathways were revealed. You can imagine the excitement.
We immediately set about putting together our own Time Team, headed by project leader David Reilly. David and his team set about marking out the original pathway design before it could disappear when the rain returned.
We have since allowed the grass to grow where the original pathways once were, while very sharply cutting the remainder of the lawns. The result allows visitors to immediately pick out the original layout and there by gain a deeper understanding of the size of this garden, its proportions and how it will look once our restoration is complete.
Bees, blooms and colour bursts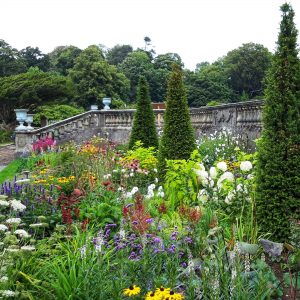 This restoration work is already underway. We started with with the two large herbaceous beds, firstly defining the sharp-edging that borders the pathways and then filling them with plants. Many are in full bloom now, and we think you'll agree the effect is fabulous.
We have gone for a mixture of old and new, mixing a more-contemporary planting scheme that bursts with colour and texture with traditional pollinator-friendly varieties that will help nourish our vital pollinating insects. And the latter have certainly met with approval: These deep herbaceous beds are now humming with the sound of contented bumble bees, butterflies and other winged creatures. On one plant (Nepeta x faassenii, or catmint) alone our head gardener Sean Fahy counted twelve bumble bees and three butterflies!
We hope you enjoy watching the progress as much as we enjoy bringing these gardens, their pathways and their planting, back to thriving life.
— Oisín
###
Why don't you come and enjoy the gardens?  
Entry to the gardens is FREE to the public – open daily from 8am – check out our Opening Times page for gate and grounds' opening times.
We are running brand-NEW Gardens Tours until the end August daily at 2pm. Join at the front steps of the house. Adults €8, children €2. Drop in or pre-book at group. Learn all about the historic landscape of the estate and why it is so 'naturally' beautiful. (Don't tell anyone … but … it was all planned!)
If you'd like to stay over, we have an exceptional late Summer offer for August – 2 Nights B&B + 1 Dinner from €318 in Total for 2 people.  It allows plenty of time to enjoy the gardens in full bloom.  Book online wwww.hotelwestport.ie or call us on 098 25122.
###
About Oisín Griffin, Estate Grounds Manager at Westport House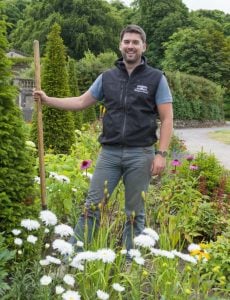 Oisín is a qualified landscape architect with a masters degree in construction project management. He placed in Bloom twice and starred in RTÉ's Super Garden. For fun, he enjoys surfing, running, biking and all things outdoorsey. Oisín worked his way through college – for five summers – in Westport House.
Discover more about Westport House with a guided tour. Did you know we have a premier Caravan Park & Campsite as well as a Pizzeria and Adventure Park?